Hotel & Travel
Event Location and Host Hotel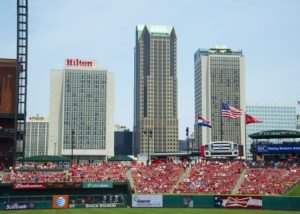 The CLEAN WATERWAYS team has arranged a room block at the Hilton St. Louis at the Ballpark, located on 1 South Broadway in St. Louis, MO.  The Hilton is our host hotel and event location for CLEAN WATERWAYS 2018. The location has a 360 Rooftop Bar on the 26th floor, 3 markets and 1 Starbucks, as well as complimentary WiFi, an airport shuttle, fitness room, pool and more.
Our hotel is sold out for CLEAN WATERWAYS 2018. Please contact the hotel directly at (314) 421-1776 to check availability
 Traveling Around St. Louis
Our conference will be taking place at The Hilton St. Louis at the Ballpark. The hotel is located near Busch Stadium and the Gateway Arch in the heart of downtown. Click here to view information on things to enjoy in St. Louis!
Public Transportation 
Click here to view information on transportation 
Enjoy St. Louis
After conference hours there are endless options for enjoying downtown St. Lous. Just minutes from St. Louis Ballpark Village, Gateway Arch, live music venues and more – there's never a dull moment in this city
Attractions
Missouri Botanical Gardens
Catch a MLB Cardinals game
Anheuser-Busch Brewery
Six casinos in the area
National Blues Museum
Six Flags St. Louis
And more
Restaurants
Tony's
Sauce on the Side
Charlie Gitto's
Bootleggin BBQ
Bars & Nightlife
21st Street Brewer's Bar
4Hands Brewing Company
Budweiser Brew House
Howl at the moon
And so many more!
Tips for Traveling to CLEAN WATERWAYS
St. Louis in April has a varying daily temperature, so please be sure to pack layers! During the day it ranges from 62 – 72 degrees, dropping as low as 47 degrees at night.
Be sure to pack comfortable shoes for long show days and fun nights!
Pack and use moisturizer and lip balm to soothe dry skin
Wash your hands often and/or use hand sanitizer to avoid getting sick
Research the city before arriving to maximize your time